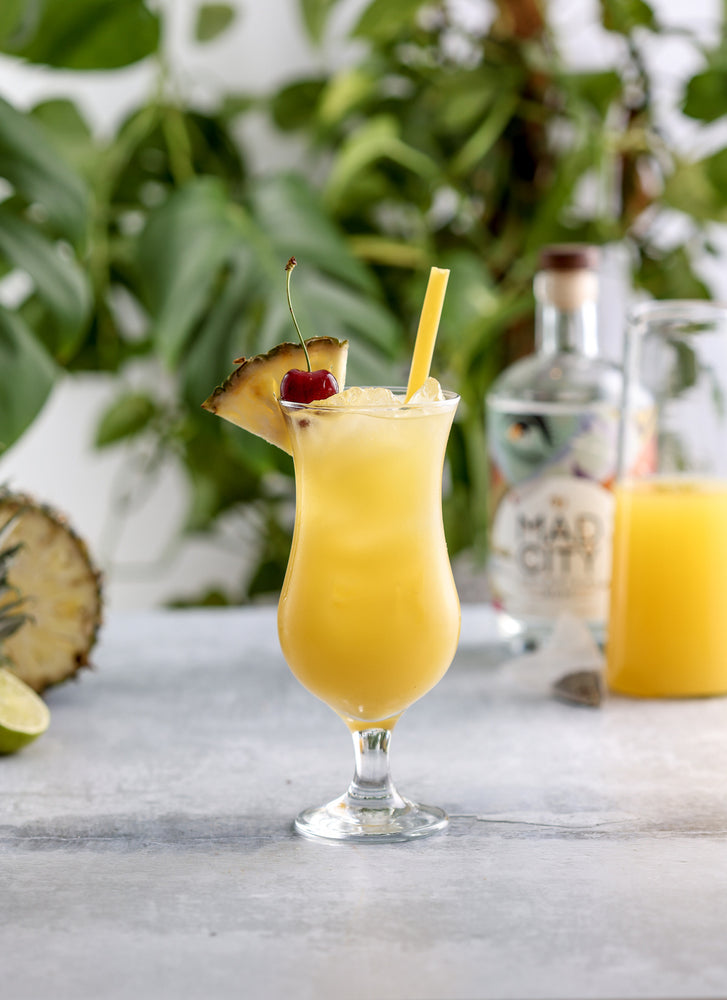 Versatile and delicious, white rum is the perfect partner for summer socialising. Here's our quick guide to how to drink it with friends this summer.
Rum is the essence of summer. Perhaps it's to do with its origins in the Caribbean islands, particularly Barbados and Jamaica, which make us think of warm sun, white beaches and a relaxed, laid-back attitude. Or it might be something in the name itself: it's been suggested that 'rum' is derived from 'rumbustion', an old slang word meaning 'a noisy, uncontrollable exuberance'.
Today, there's huge range of different rums out there: we've put together a brief introduction here. In this post, though, we're focusing on white rum. An incredibly versatile and sociable spirit, white rum - particularly botanical white rum like our award-winning Mad City Botanical Rum - goes with a whole range of mixers and makes all of your favourite rum cocktails: the perfect drink choice for summer 2021.
How to drink white rum
If you're new to the spirit, there are basically two ways to drink it. The first is simply with a mixer. You can't beat cola or ginger ale; but we also recommend trying it with something new and fresh like lime soda. People sometimes ask us whether, given its delicate flavours and unique character, it's OK to mix our Mad City Botanical Rum with cola or Coke. And yes, it is. It makes the best rum and cola you've ever tasted!
The other way to drink it is in cocktails. There are as many variations and signature serves as there are rum-drinkers and mixologists; so experiment and find your own favourite – this is half the fun.

The best rum for your money and your Mojito!
You might think that if it's being mixed with other cocktail ingredients the quality of your white rum doesn't really matter. As with all food and drink, the better your ingredients, the more delicious and enjoyable the results will be.
We also apply that thinking to Mad City Botanical Rum itself. Our rum blends are 100% Fairtrade certified rum made with sugar cane molasses from four of the world's leading rum-producing countries: Jamaica, Guyana, Dominican Republic and Barbados.
The 25 carefully-selected botanicals, also from sustainable sources where possible, help to create deep, complex, amped-up flavours - the basis for the best rum cocktails you've ever tasted.
What are the best white rum cocktails?
A great place to start is with one of the quintessential rum cocktails: the Daiquiri (check out our Mad City Daiquiri) or the Mojito. Both involve mixing white rum with lime juice and sugar, a traditional and delicious pairing for rum, to which you can then add other ingredients to create more complex cocktails, such as our Mad City Rhubarb Mojito.
You can also mix white rum with ginger beer to make a Light and Stormy (see our delicious reboot, the Mad City Solstice); or create one of the world's most famous cocktails, a Long Island Ice Tea. And what says summer vibes more than the tropical Piña Colada, which originally hails from Puerto Rico. We've developed a refreshing, light version which allows the flavours of our Mad City Botanical Rum to shine through.
Mad City Botanical Rum cocktail recipes
Here are some of our favourite rum cocktail recipes to give you some inspiration - and help get the party under way this summer!
---
← Older Post Newer Post →