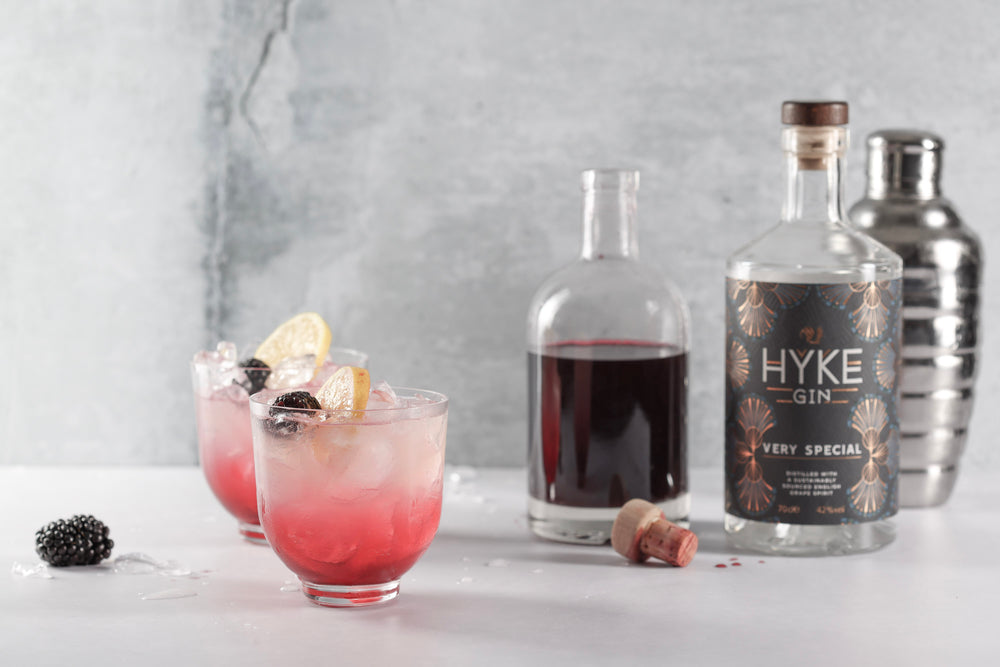 A contemporary, classic gin cocktail created in the 80s by Dick Bradsell at exclusive member's bar, Fred's Club Soho.  
Dick once said "its success is down to its simplicity" and we couldn't agree more.  The key is balance, you need enough lemon juice to balance the mure.  Want to know more about Dick's recipe development? check out Diffords Guide encyclopedia of drinks. 
For the ultimate Autumn Bramble try making your own Crème de mure in September whilst the hedgerows are heaving and use HYKE Gin Very Special – made with the by-product of the English wine harvest –  for this quintessentially British cocktail. 
Ingredients 
50ml HYKE Very Special Gin
25ml lemon juice
¾tbsp sugar syrup
ice cubes
crushed ice
¾ tbsp crème de mure
1 lemon slice and a blackberry to serve
Method 
Shake the gin, lemon juice and sugar syrup in a cocktail shaker with a good handful of ice cubes
Strain into a rocks glass full of crushed ice.
Drizzle the crème de mure over the top so it 'bleeds' into the drink.
Garnish with the lemon slice and blackberry.
---
← Older Post Newer Post →