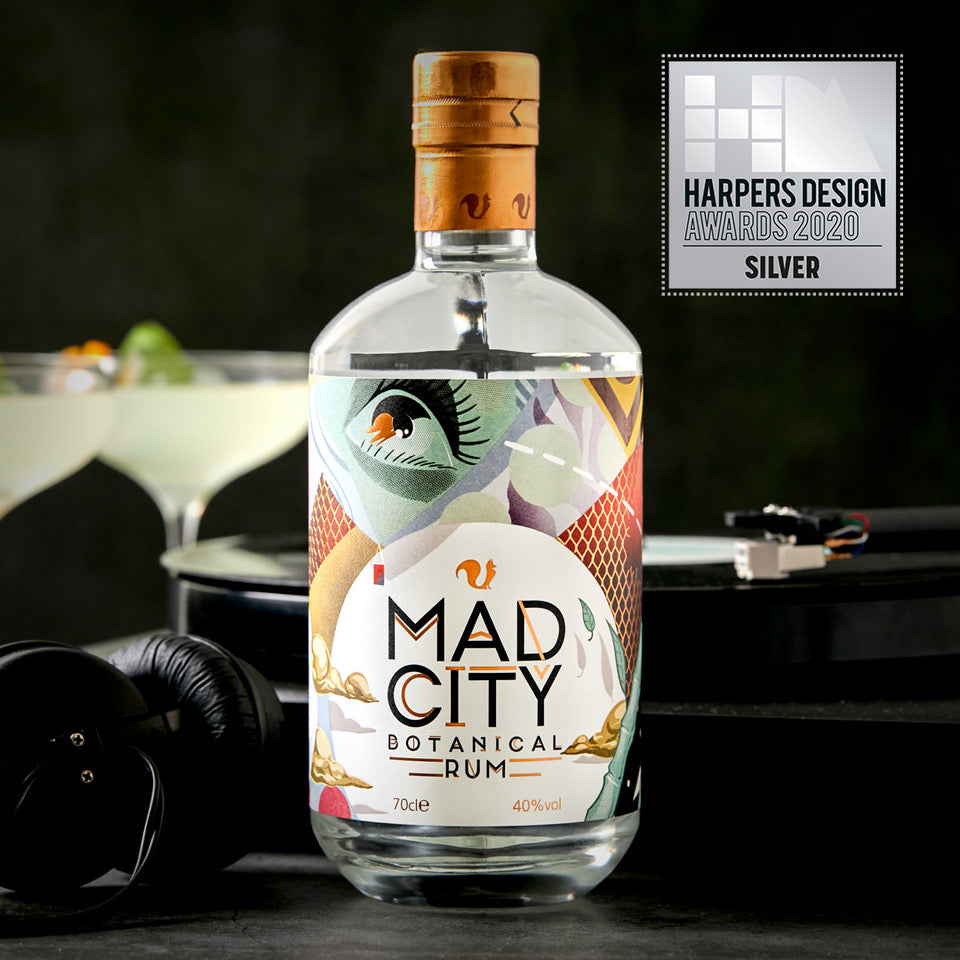 Mad City Botanical Rum Wins Silver in Harpers Wine & Spirit Design Awards 2020
Category defying rum from Foxhole Spirits recognised for label art work by Sled-One
West Sussex, December 04:  Mad City Botanical Rum, the latest release from Foxhole Spirits – specialists in creating luxurious spirits from otherwise unused resources – has been awarded a silver medal in the prestigious Harper's Design Awards.  
Recently launched in July 2020, Mad City takes white rum to new and extraordinary heights with its unique botanical recipe. Made with molasses, a natural by-product of the sugar industry and sustainably sourced botanicals, Mad City was the natural evolution for the makers of HYKE Gin, whose mantra is 'Reclaim, Repurpose and Reimagine'.
The brand representation created by Bristol-based urban artist Sled-One, translates Foxhole Spirits' distinct vision for its new category defying rum. It celebrates the unique blend of materials, influences, experience and motivation that went into the blend whilst complementing the art deco influence seen throughout the rest of brands' portfolio.  
The stunning original label art work – with its bold lines, vibrant colours and myriad details – reflects the energy, colour and sound of Bristol's Stokes Croft and St Paul's areas, one of Mad City's key influences as well as some of the features of the product.
The result is an award winning design in Sled-One's surreal, natural style that encapsulates the complexity, vibrancy and intrigue, not just of Bristol, but of all the other Mad Cities across the globe.
James Oag-Cooper MD and co-founder of Foxhole Spirits comments "We place strong emphasis on presentation as we believe that it contributes to the overall experience and enjoyment of our products.  With Mad City we knew we had an exceptional and unique spirit and we wanted a design to match our reimagination of the rum category. Together with our long term branding partner Warren Creative, we are really proud to have been recognised with this award. It's proof of our continued efforts to make world beating spirits."
---
← Older Post Newer Post →