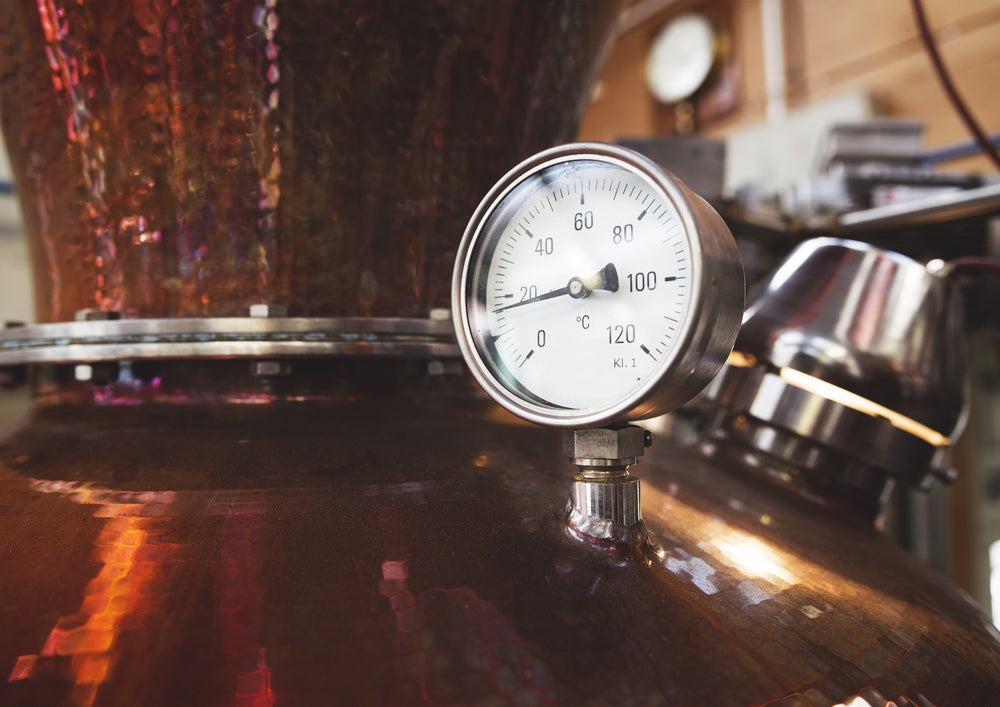 March 09, 2019: Foxhole Spirits – specialists in the production of premium spirits from otherwise unused resources – is set to launch HYKE, the second product in its portfolio on Global Recycling Day, March 18. 
HYKE is a new premium gin made in England using grape spirit produced from fresh table grapes that are surplus to the requirements of the supply chain. 
Working with Richard Hochfeld Ltd, one of the UK's biggest fruit importers, Foxhole Spirits is re-inventing the equivalent of 1.4 million punnets* of internationally sourced surplus grapes, per year – which can't be sold as fresh – as a luxury, hand-crafted spirit; using the same know how and expertise developed for award winning Foxhole Gin. 
HYKE Gin contains a unique blend of botanicals inspired by the grapes' African and South American origins, including coriander, myrrh and rooibos.   Rich, sweet citrus characters lead, followed by velvet-textured spice and complex aromatics. 
HYKE (70cl) will be available to the on-trade through Highball Brands, Foxhole Spirits' exclusive UK distribution partner.  Three signature serves to showcase HYKE's versatility and distinct taste, have been developed by Jamie Jones, director of drinks at Scotch + Limon;  HYKE G&T, HYKE Spritz and a HYKE Martini. 
HYKE (50cl) will also go on sale exclusively in 300 Tesco stores nationwide helping to support the retailers' targets, as part of Champions 12.3, to halve food waste by 2030. 
James Oag-Cooper, MD and co-founder of Foxhole Spirits comments:"We knew that there was something special that could and 'should' be done with this quality by-product, so we applied our expertise and craftsmanship to the challenge. The result is a totally unique product which tastes exceptionally delicious, is beautifully presented, sustainably conscious and yet still affordable."
Traditional African fabrics inspire the striking geometric label design on the bottle, a further nod to the origin of the table grapes used to make the gin. In addition, every element of the bottle is made from recyclable material, with each detail of the process and materials considered, and the environmental impact reduced where possible.
Notes to editors: 
HYKE will be available to the on-trade in a 70cl bottle. Sales enquiries should be directed to Harriet Goodchild, Business & Operations Manager Highball Brands:
E: 

harriet@highballbrands.com

T: +44 (0)207 637 7443
HYKE will be available from Monday March 18 exclusively at Tesco stores nationwide and online, priced £24 per 50cl bottle (40% ABV). 

www.tesco.com

Tasting notes: Rich, sweet citrus characters lead, followed by velvet-textured spice and complex aromatics. Versatile and delicious for all drinking occasions. Full list of botanicals: Juniper, Coriander, Angelica Root, Angelica Seed, Orris Root, Liquorice, Aniseed, Cumin, Rooibos, Myrrh, Lemon Zest, Bay Leaf, Nigella Seed, Green Cardamom, Black Cardamom
*Approx. 713 tonnes of fresh table grapes per year are not suitable for fresh consumption from a total volume of 500,000 tonnes; 2.7%, which equates to approx. 1.4 million punnets of grapes.  The base spirit created from surplus grapes helps to reduce food waste in supply chain.
Press enquiries: Donna Amato, Marketing & Communications, Foxhole Spirits,
E: 

donna@foxholespirits.com

T: +44 (0) 7950 411747
HYKE SIGNATURE SERVES
HYKE GIN & TONIC
Glass: Lowball
50ml HYKE Gin
Top with Schweppes 1783 Crisp Tonic
Garnish Lemon slice
Fresh thyme sprig
HYKE SPRITZ
Glass: Copa
35ml HYKE Gin
20ml Rhubarb & ginger cordial
Top with 75ml Sparkling rose wine
Top with 50ml Soda Water
Garnish Lemon twist
Fresh thyme sprig
HYKE MARTINI
Glass: Martini
60ml HYKE Gin
15ml Crème de cacao blanc
15ml Amontillado sherry
Squeeze of lemon zest
Garnish Green olive
About Foxhole Spirits: Co-founded by James Oag-Cooper and Sam Linter, Foxhole Spirits specialises in the creation and production of high quality, premium spirits with a focus on using otherwise unused resources; promoting sustainability and creativity within the drinks industry. With knowledge and expertise, it creates hand crafted products that are beautifully unique, of the highest quality, honest to their origins and most importantly, exceptionally delicious.
About Tesco: Tesco is leading the charge on sustainability in the UK. Along with all major UK supermarkets, Tesco has signed the voluntary agreement known as the Courtauld Commitment 2025, a commitment to cut food waste by one-fifth within a decade.Tesco CEO Dave Lewis is the chair of Champions 12.3, a unique coalition of executives from governments, businesses, international organisations, research institutions, and civil society dedicated to accelerating progress towards achieving the United Nation's Sustainable Development Goal of halving food waste by 2030. Tesco has also set a target that no food that's safe for human consumption is wasted in its UK business. Over the last two years, it has reached over 70 per cent of this target. 
About Richard Hochfeld Ltd: Richard Hochfeld Ltd. was first established as a family business in 1936 and has remained at the forefront of the supply of table grapes, apples and pears to UK retail. Its purpose-built facilities in Kent offer the latest storage and packing facilities. Today, the team at Richard Hochfeld Ltd. is dedicated to providing a reliable, professional service and developing sustainable improvements in the supply chain.
 About the Global Recycling Foundation: The Global Recycling Foundation, formed by BIR in October 2018, supports the promotion of recycling, and the recycling industry, across the world in order to showcase its vital role in preserving the future of the planet. It will fund educational and awareness programmes, innovation initiatives which focus on the sustainable and inclusive development of recycling. The theme of Global Recycling Day 2019 is 'Recycling into the Future' The message is that the world's natural resources will eventually run out, so we need to develop a resource not waste mindset, come up with innovative solutions, and look to a sustainable future. 
---
← Older Post Newer Post →