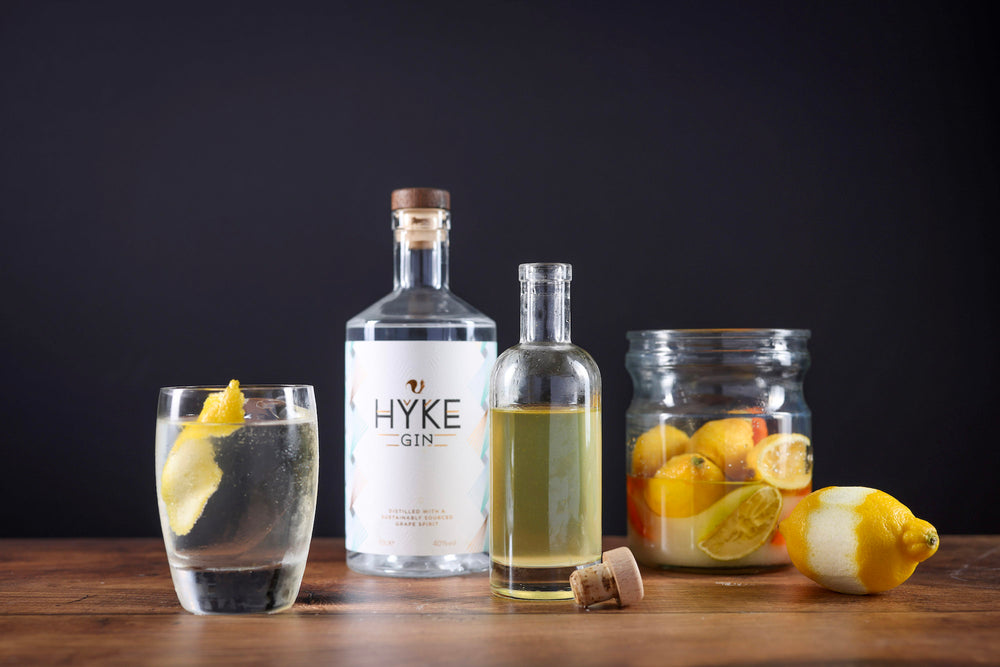 This week (6-10 September) is Zero Waste Week - an award-winning national campaign to raise awareness about the environmental impact of waste.
At Foxhole Spirits we know there's value in natural, surplus materials others overlook, and use them to make delicious, luxurious spirits that consistently win major awards for their quality and taste - not in spite of their unique origins, but because of them.
Inspired? If there was ever a time to start drinking, as well as eating more sustainably, it's now.  Here's our top tips for a more eco cocktail hour.
"No-one can do everything, everyone can do something. Together we can do anything" #zerowasteweek.
Stock your Bar with Sustainable Spirits 
We're not alone. An increasing number of sustainably focused producers work hard to reduce their impact on the planet without sacrificing quality.
Sapling Spirits plant a tree for every bottle of Vodka they produce and Black Cow use surplus whey to make a creamy vodka with a warm and clean finish.  We're stocking a few of the best alongside our products on our store. 
Make a Cordial from Juiced Citrus
An easy way to cut food waste is to use the flesh from oranges, lemons and limes (once you've squeezed out the juice) to make a simple, versatile cordial (we love this simple recipe suggested by Farmdrop). This flavoursome drinks ingredient will keep in the fridge for up to a month.
Dry your Peel 
Drying your peel is yet another way to preserve its flavour. Use a veg peeler to strip the zest from your oranges and lemons, then dry them out at room temperature or in a low oven. 
Once dried, use them to flavour tea, infuse gin or vodka, or blitz them into a powder to add a dash of sweetness to other drinks.
Make a Ginfusion
You can make infused gins from practically anything - pineapple rinds, fruit that's a little past its best or leftover herb leaves, for example. All you need is a jar to put it in!
We recommend steeping the ingredients in HYKE Gin for at least a week: the longer you leave it,  the more flavour you'll get. Once the gin is infused, you can use it in 2:1:1 cocktails, in gin and tonics for an extra edge, or get creative and invent something entirely from scratch.

Here are a couple of our favourite infusion recipes:

Rhubarb and pear
Just chop some pear and rhubarb into small chunks and submerge in a jar with HYKE Gin. Keep tasting it as the days go by then strain and drink it whenever it's at your desired 'fruitiness' level.
Lemon peel and thyme
Zest the lemon and let that steep in HYKE Gin with some sprigs of lemon thyme. Go easy with herbs though you don't want them to overpower the gin. Once again keep tasting it and once it is how you like it you can strain and enjoy.
Grow your Own
Herbs are one of the most commonly thrown out items from our fridges so save yourself some money as well as helping the planet by growing your own; in a little pot in your kitchen, a window box or wild and free in your garden. Thyme, basil and mint are good ones to start with and feature in lots of delicious drinks. 
Freeze Leftover Herbs
Fresh herbs and herb syrups can be preserved in the freezer so you don't need to mess around making a syrup from scratch or dashing to the shops when a recipe takes your fancy.
PREP. Rinse herbs and pat dry. Chop as desired.
TRAY. Place herbs in an ice cube tray. Fill each well with water, just enough to completely cover the herbs. Press the herbs into the water so they are fully submerged.
FREEZE. Place the ice cube tray in the freezer. 
TO USE: To use, place the cube in a small bowl and let the ice melt. Carefully drain the water and pat dry.
---
← Older Post Newer Post →