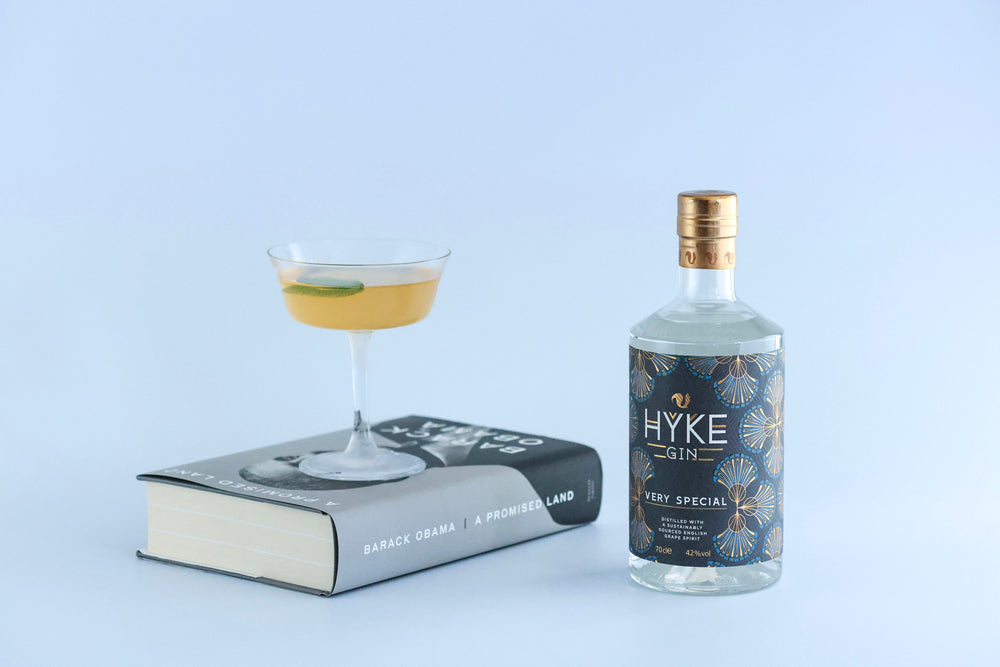 Wondering what to get a special man for Father's Day this year?  We've got some delicious Father's Day drink gifts for you right here.
Whether he's old fashioned, arty or simply loves good spirits, our range has all the inspiration you need.
Father's Day Gin
HYKE Gin Very Special
What to buy the Dad who knows and appreciates Gin? Launched just two weeks ago, HYKE Gin Very Special is already award-winning (Difford's Guide 5* Exceptional)
This beauty will be a welcome addition to the gin connoisseur's collection on Father's Day.
Created with English-grown wine grapes that are usually discarded after pressing; a sustainable natural material that we've beautifully reimagined. What brings the flavour to life is our new blend of 19 botanicals including Grapefruit, Earl Grey Tea and Lavender which gives HYKE Gin Very Special it's rich and elegant character.

And the Very Special touch - we add a tiny drop of brandy, which we've been secretly ageing for 2 years. It's like magic; in that instant all the layers of flavour come together in perfect balance.
HYKE Very Special Old Fashioned Bundle
What to buy an old fashioned type of Dad?  A HYKE Gin Very Special Old Fashioned of course!
HYKE Gin Very Special lends itself perfectly to a 'Gin' Old Fashioned cocktail with its savoury, earth notes and sweet citrus botanicals balancing with the bitters.
Our brilliant value cocktail bundle comes with different options of bitters so he can experiment and discover his perfect Very Special Old Fashioned!
Father's Day Rum
Mad City Botanical Rum
What to buy for the cocktail loving Dad?  Multi-award winning Mad City Botanical Rum is the ideal gift for dads who enjoy home mixology (it's a drinks-cabinet essential that works beautifully in all rum based cocktails) and for those who love discovering new and interesting spirits.
With Mad City we have taken white rum taken to new and extraordinary heights. More depth, more flavour, more complexity – everything's amped up and elevated by our unique botanical blend.
The label is pretty special too, it's an original work of art created by urban artist Sled-One, Don't just take our word for it, Mad City has had some fantastic reviews, from those with a good nose.
Bar Chick; "We can confirm it's wicked. Soft n velvety, with a bit of tropical fruit brightness giving way to warming spices, pecan nuts & vanilla. Pow."
The Floating Rum Shack; "This feels like a genuine attempt to provide a cross over product for gin drinkers who fancy trying flavoured rums. I've not tried this with tonic yet. But I'd bet my bottom dollar it will work perfectly"
Mad City Botanical Rum and Open Edition Print
What to buy for the arty Dad?  A Mad City bundle; IWSC award-winning Mad City Botanical Rum with Sled-One's award-winning fine-art quality, Open Edition Print embellished with copper foil and digitally signed.
Sled-One's distinct surreal and natural style encapsulates the energy, colour and sound of Bristol's Stokes Croft and St Paul's areas one of Mad City's key influences and all the other Mad Cities across the globe.
This stunning Father's Day gift set will appeal to Dad's who appreciate art and design as well as discovering new premium spirits.
---
← Older Post Newer Post →