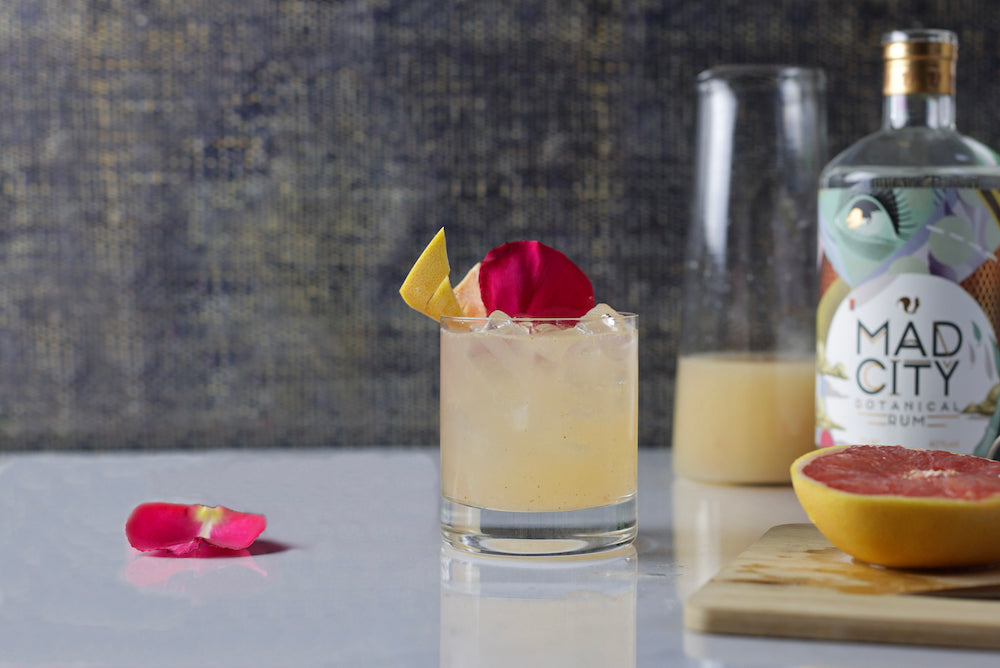 How do you create a romantic night at home when you've spent almost every night-in for the last two months?
Food is obviously very, very important but don't neglect the drinks. You'll need some special Valentine's cocktails to get you in the mood for love too!
We've got four of the best romantic cocktails for you and your loved one to enjoy this Valentine's Day.
Have a look through our sexy selection of recipes below and follow our easy instructions for how to make the perfect gin or rum cocktail this Valentine's.
Mad Valentine
Spice-up your night with a Mad Valentine, an easy but impressive rum cocktail.  The tropical notes of Mad City Botanical Rum pair deliciously with the grapefruit juice and a dash of cayenne pepper helps to turn up the heat!
Ingredients
50ml Mad City Rum
50ml Grapefruit Juice
25ml Vermouth Bianco
A pinch of cayenne pepper using the tip of a teaspoon
Method
Fill a large mixing glass or jug with ice
Add all the ingredients and stir until chilled
Fill a low ball glass with ice
Strain or carefully pour the chilled liquid into the glass and top with soda.
Garnish with grapefruit peel and rose petal.
Raspberry Smooch
 Put a romantic twist on a classic G&T with this super simple rose-hued beauty. This easy romantic cocktail can be made in minutes!
Ingredients
50ml of HYKE Gin
Fever Tree Raspberry & Rose Soda.
Method
Begin by filling your choice of glass with ice
Add 50ml of HYKE Gin
Top with Fever Tree Raspberry & Rose Soda
Garnish with fresh or frozen raspberries.
Sultry Spritz
Make your night sparkle with the effervescent HYKE Spritz made with Sparking Rosé wine.  
Ingredients
35ml HYKE Gin
20ml Elderflower Cordial
75ml Sparking Rosé Wine
50ml Soda Water
Lemon Twist
Fresh Thyme Sprig.
Method
Begin by chilling a Copa glass with ice
Fill with ice, add 20ml of Elderflower Cordial and 35ml of HYKE Gin
Top up with 75ml Sparking Rosé Wine and 50ml Soda Water
Garnish with Lemon Twist and sprig of thyme.
Clover Club Kiss
Sweet and sour, rich and silky, this drink will put you in the pink this Valentine's Day.


 Ingredients
50ml HYKE Gin
25ml part lemon juice
25ml sugar syrup
5 fresh muddled raspberries.
Method
Fill a cocktail shaker or tin with ice
Add all the ingredients and shake vigorously until well-chilled
Strain and serve into a short glass and garnish with a raspberry!
---
← Older Post Newer Post →