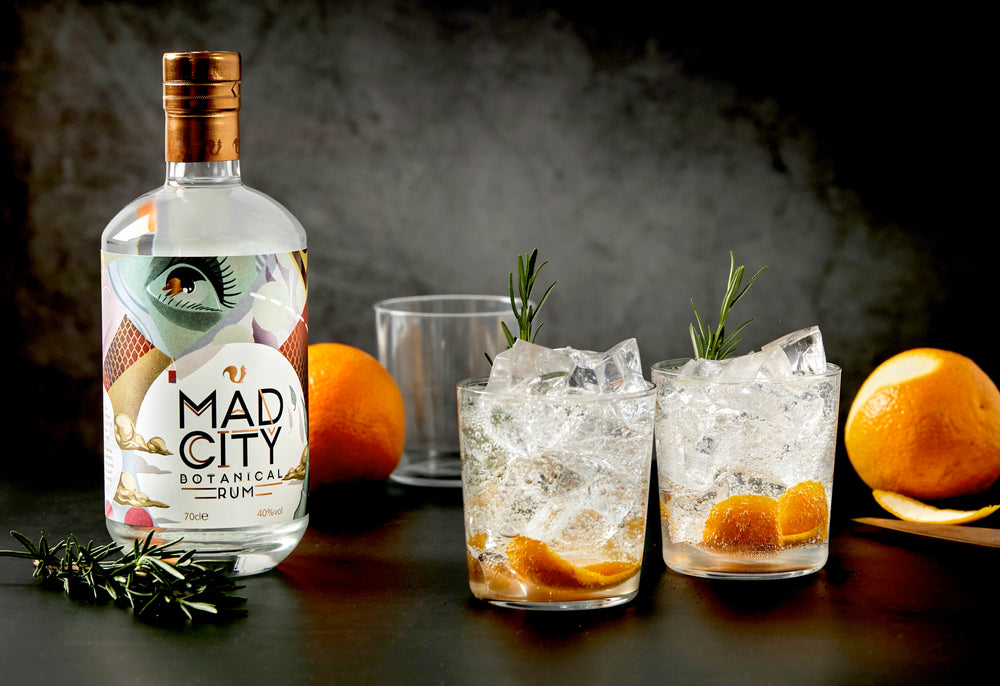 Mad City Botanical Rum is a luxe white rum enhanced and invigorated with a recipe of 25 botanicals – sustainably sourced where possible -  including Coconut, Orange and Coffee for a truly unique drinking experience. This isn't a flavoured rum, or a spiced rum. It's Mad City Botanical Rum – the ultimate tipple for rum fans, cocktail lovers and curious drinkers who are looking beyond gin.
Made with 100% Fairtrade certified rum made from sugar cane molasses, a natural by-product of the sugar industry, Mad City Botanical Rum is an essential addition to your drinks cabinet that works beautifully in all classic rum-based drinks. 
Need a little inspiration? Introducing our three easy-to-recreate at home Mad City Signature Cocktails....
Mad City Hard Seltzer 
For those looking for the perfect low sugar cocktail, we're hyping the Mad City Hard Seltzer! 
There's no need to buy one pre-batched in a can when you have this super simple DIY version up your sleeve.  
We've perfected our recipe by muddling orange zest and adding a little coconut water for sweetness. The result is an effervescent and zesty hit that allows plenty of room for the tasty notes in Mad City rum to shine through! Are you ready to try your new favourite drink?
Mad City Daiquiri
A Daiquiri is an absolute must for cocktail lovers, and it comes in many forms. No doubt you've seen a Strawberry, Raspberry or perhaps even a Mango Daiquiri on the drinks menu. However, you won't have seen a Daiquiri cocktail like ours before. Simple and sublime our Mad City Daiquiri contains rum and lime juice but instead of sugar to complete the holy trinity we use acacia honey. A mad twist on a classic, this combination is the ultimate citrus elevation of Mad City botanical rum's flavour profile, delicately balanced with a herbaceous twist. 
Mad City Solstice 
A simple to make but complex take on one of the most popular cocktails in the world, the 'Mad City Solstice' is a reboot of the Dark & Stormy, and one you need to add to your at-home cocktail repertoire. This crowd-pleasing cocktail is perfect for sipping on warm summer afternoons, mid-winter evenings and any time in between! 
---
← Older Post Newer Post →