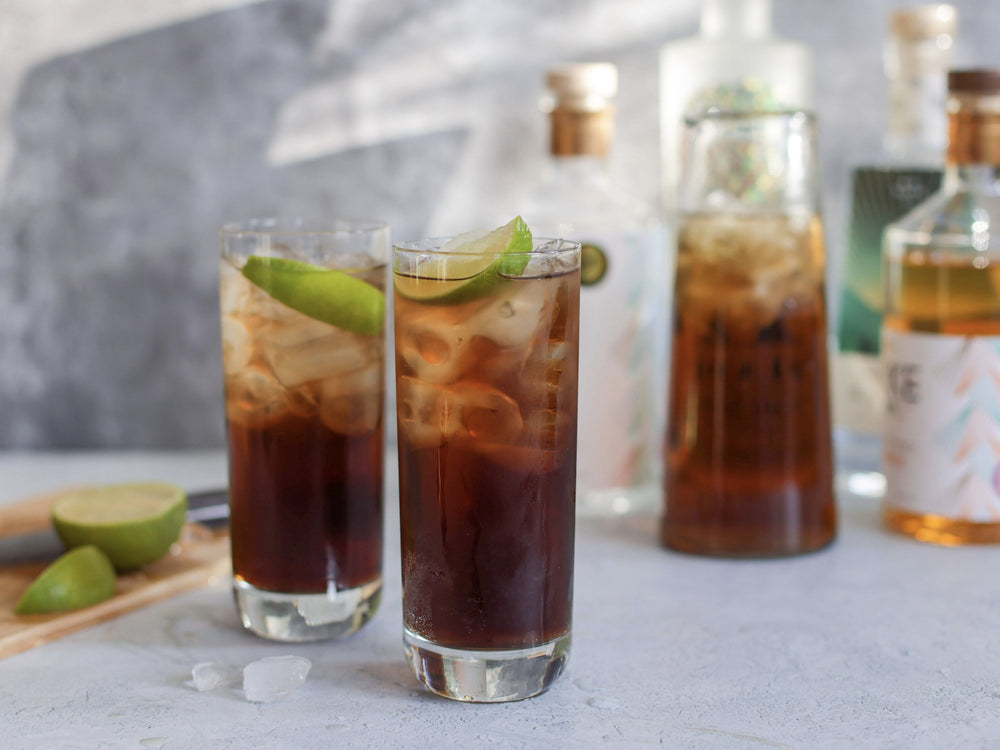 Entertaining al fresco over the bank holiday weekend? you need some delicious cocktail recipes that are simple to make or include some steps which can be prepared in advance; leaving you more time to catch-up with people you haven't seen for a while! 
Many of our Spring cocktail recipes are perfect to make in a pitcher, and as well as looking delicious, made with our luxurious spirits – they taste exceptional too! 
Short Cut Mojito
Mojitos without the muddling! By pre-preparing a simple mint infused syrup this classic is easy peasy, plus you can make lots of cocktails from a single batch of syrup and refrigerate what's left for up to 4 weeks.
Ingredients:
60ml Mint infused syrup
50ml Mad City Botanical Rum
30ml Freshly squeezed lime juice
Ice
120ml Soda water
Fresh mint leaves and/or fresh lime wedge for garnish

Method:
Add a shot per person of syrup and rum to a jug along with a mint sprig and two lime wedges per person, squeezing their juice into the jug as you go.
Add tons of cubed ice, stir and top up with soda water.
Taste to see if any more syrup is required. 

Mint infused syrup recipe
Ingredients:
1 cup water
1 cup white sugar
1 cup fresh mint leaves
(makes 8 servings - just increase the amount of each ingredients to make a bigger batch - the ratios need to be balanced)

Method:
Combine the sugar and the water in a small saucepan over a medium heat. Stir or whisk until the liquid has heated and all of the sugar has dissolved, and remove from the heat. Stir in the mint leaves, and leave to infuse for 15 minutes.

Squeeze out the mint leaves, removing them from the syrup. Allow to cool completely before straining and storing in a sterilised jar or bottle in the fridge for up to 4 weeks. 
Mad City Solstice 
The Mad City Solstice, a delicious dark and stormy reboot which takes just minutes to make. Three ingredients, one stunningly simple yet complex cocktail, perfect for the rule of six! 

Ingredients:
40ml Mad City Botanical Rum
10ml Rosso Vermouth
Ginger Ale
Lime Wheel/Wedge
Method
Add 10ml Rosso Vermouth to a high-ball glass and fill it with ice before pouring 40ml Mad City Rum over the ice. Top with Ginger Ale and garnish with a lime wheel or wedge.
HYKE Spritz 
Our signature HYKE Spritz is effervescent and refreshing plus its ideal for making up in a jug and enjoying in the garden.  We have all the ingredients you need in one great value bundle available on our store too! 

Recipe per person:

20ml elderflower (or rhubarb) cordial
35ml HYKE gin
75ml sparkling rose wine
50ml soda water. 
Method:
Add cordial, gin and sparkling rose wine to a jug along with a thyme sprig and a wedge of lemon per person. Add tons of cubed ice, stir and top up with soda water. Taste to see if any more cordial is required. 
Long Island Ice Tea 
Dreaming of distant shores and dancing under the stars again, this one's for you. We've combined all the ingredients you need to make the ultimate escapist cocktail into one bank holiday bundle, available on our store.
Ingredients: 
12.5ml HYKE Gin 
12.5ml 
HYKE Signature Series Orange
12.5ml 
Vodka (we like Sapling)
12.5ml 
Tequila ( we like El Rayo) 
12.5ml 
Lime Juice
12.5ml 
Lemon Juice
12.5ml 
Sugar syrup 
60ml Cola 
Method: 
Add all the ingredients – except for the cola – into a cocktail shaker with ice and shake. Strain into a high-ball glass filled with ice. Top with cola and garnish with a wheel of lime. 
---
← Older Post Newer Post →