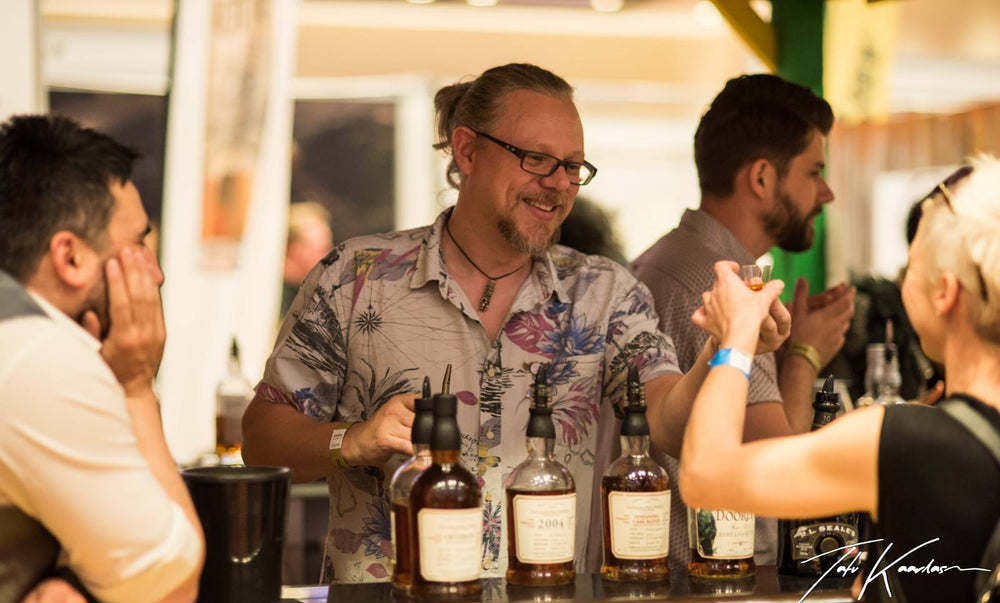 Peter, how did an engineer get so involved in the rum world and become the 'Rummy' you are today?
I started dating a lovely lady back in the early 1990's - a course of action that leads to me marrying her and into a West Indian family in 2000. Prior to meeting Pauline, I never gave a moment's thought to Rum. I recall seeing Bacardi - but it didn't really sell itself as Rum - it was a brand call, like a Hoover I guess. Equally, the other options were Captain Morgan, or Lambs - both presented in a colour I just didn't like the look of. And let's face it - they looked like an old man's drink. I have no real Navy connection (apart from my Grandad), and there was no sense of providence.
I don't recall exactly when, but a dual approach of access to Mount Gay Eclipse due to the West Indian contingent of the family - a lovely aged Rum from Barbados, and the persuasive actions of my friend who got me into drinking Guinness with Jameson whiskey chasers means that neat spirits become a far more acceptable option, although I'm mostly drinking Rum and coke.
Around 2008 we decided we need a distraction and we set a plan to start a blog (TheFloatingRumShack) and then totally failed to do anything with it. Not until something of a fluke saw us in London on the weekend that the 2nd annual UK RumFest was being held. We booked tickets and had quite frankly the best time ever - eyes opened to a world of Rum we never knew existed.
January 2009 we went to our first Rum Club at Trailer Happiness - the first of a hundred or so different events over the coming years. May 2009 we went to the first Miami Rum Festival, a baller long weekend because it happened to coincide with Pauline's birthday.
So many things seemed to fall into place like they were written in the stars. The blog had come to life, and because of that Rum samples started arriving in the post, along with invites to various launches. We ended up spending every day of our holiday allocations travelling around to Rum Festivals, and Rum holidays - to producers in various countries around the world. We also were invited on press trips, meaning we got to see parts of the world that we would never have seen otherwise. Long hours - late nights. It was a glorious time, and we spent an absolute ton of money facilitating it.
Eventually, we got to the point where we couldn't do much more without more time in which to do it. This glass ceiling meant the day job had to go, and in 2014 I went full-time Rum in a consultant capacity. Not long later the brand work opportunities came along, providing a relatively regular income, whilst still allowing some events and activities under TheFloatingRumShack banner.
The arrival of a little girl in our lives complicated things - as has the COVID lockdown - but here we find ourselves, a little fatigued and frazzled - but busy with a number of rummy projects. I write occasionally (although I'm a lapsed blogger), I judge in spirits competitions, I host tastings and trainings, and occasionally I even run cocktail pop-ups.
Wow that is quite a journey. You clearly love rum, but what it is about the spirit that grabs you like no other and why should other people love it?
It's a combination of technical differences in production that result in a wide variety of tasting styles. There's also a lot of history, and culturally Rum is interwoven into this. Factor in its versatility in cocktail culture, and the fact that Rum tends to be a little easier going in the main, you end up with a vibe that is kind of attractive. You tend to meet like-minded folks, and I guess I'm more than happy that we've gained friends around the world because of it. Oh - and let's not forget that the liquid tends to be delicious as well, and it's completely true that there's a Rum for everyone out there.
You have travelled the world tasting rum, where's your favourite place to enjoy a rum cocktail and you favourite rum cocktail? 
Sounds a little unimaginative to say it - but London has the best cocktail scene I've visited, Paris, Miami etc - all great. But who can beat a daiquiri that's not quite perfect when it comes with the sound of the Caribbean sea lapping gently on the beach a few metres away. I'd say a Rum and coke at a Rum Shack in Jamaica beats most bars, especially with the sound of the tree frogs in the background. That and the ever-present reggae of course.
If you could only drink one 'type' of rum for the rest of your life – what would it be?
Honestly - how could you choose? Next question please!  ;-)
What's new and what's changing in the world of rum? 
The UK craft scene is on fire right now, but to be honest so many genuinely awesome Rums are coming to market, that it feels like a golden time. The producers are responding to the demand, and it's not just fancy packaging containing BS liquid. Any rise in the market perception will result in a bunch of jokers trying to cash in.
The core remains accessible and affordable. Geeky expressions fulfil their needs. Collectors and investors have their moments. Creativity and inventive folks working with flavours and processes are moving spiced rum beyond the simple brand calls. The bottom end might be dropping even lower, but the top end of Rum is higher than ever before.
You love to help people who want to explore the category and understand what's in their glass. What one or two bits of advice do you have for someone who's interested in exploring rum but doesn't know where to start? 
Reviews and articles online will give you a lot of information, but there really is no substitute for trying it yourself - how can somebody else know if your palate is going to respond favourably? Don't be afraid to kiss a few frogs as it were. I've kissed hundreds, but all that tasting experience couples with my second point.
Try and find out what you can about the Rum in question. If you work out where the Rum sits on the Gargano Classification, then you have a baseline to compare to other expressions. The more you taste, the more you'll instinctively understand what the classification represents on your palate.
If a rum tastes confectionary sweet or overly vanilla led - it probably is. It's a curse on our category that jokers can add junk to rums and pass it off as such. It's neither authentic nor good for the perception of Rum in general. So much BS marketing accompanies such things.
I know that's three so far - but I'll give you a fourth - Rum and flavoured rums (i.e. brands that tell you it's a flavoured product) are not the same things. Rum cannot be flavoured and still be called Rum. If you prefix it 'Botanical' or 'Pineapple' or 'Banana' then you should be under no illusions as to why it tastes the way it does - and there is an honesty in this. Flavoured products generally have a different goal in mind - and don't confuse the skills involved in the creation, with the skills required to distil, mature, and potentially blend Rum. Totally different subcategories from each other, and folks shouldn't confuse a flavoured product with being a Rum.
OK five - like what you like, and don't worry so much about it. Especially if a blog rates what you like poorly - what do they know about you? If you know all about the process, and you're both happy with the price and the taste - have it sir! :-D
---
← Older Post Newer Post →