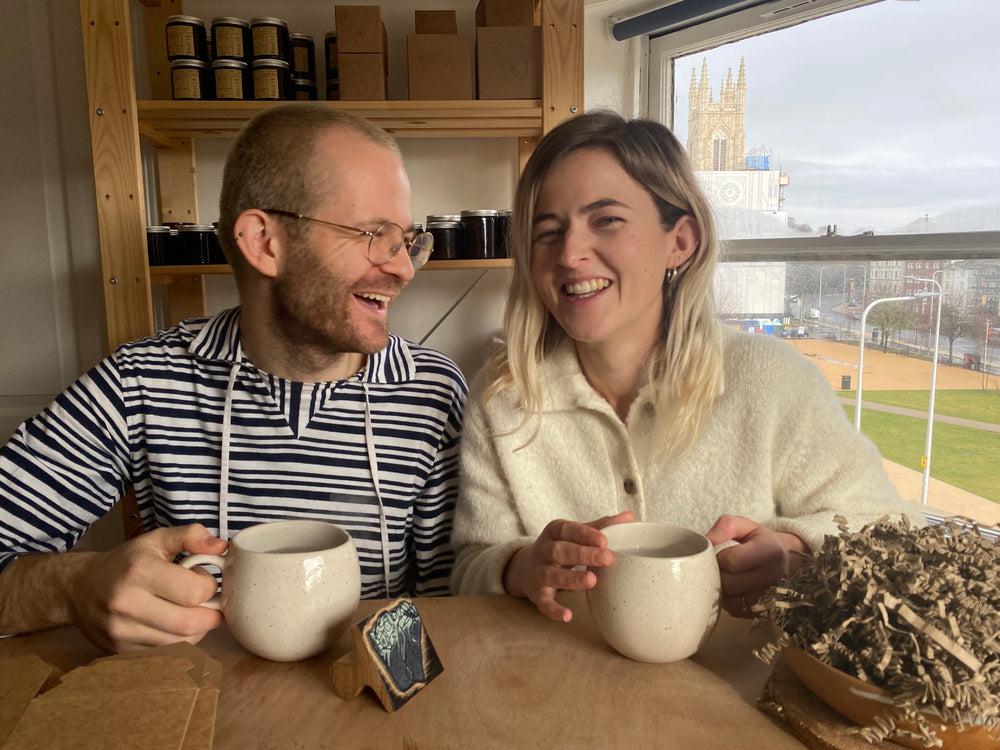 This month we're bringing you the talented and passionate duo behind Bouclé. 
Louise and Ben are the Central St Martins knitwear graduates making hand-poured, hand-crafted, soy wax candles with a focus on sustainable principles and beautiful design.
Featured in Vogue and Stylist their candles have been burning bright and long in the most stylish of homes throughout lockdown. 
Hear from the knitwear lovers with a nose, about Bouclé's beautiful scents and what's coming next for this start-up which was fused from a need to craft!
1. This is the ice-breaker. You can only enjoy one alcoholic drink for the rest of your life, what's it going to be?
Ben: Aperol Spritz! (with a slice of grapefruit) Louise: A Margarita! (I haven't mastered making them yet so can't wait for one on the other side of lockdown..)
2. Tell us, how did two knit-wear designers come to creating candles and setting up Bouclé? (knitters and fashionistas out there will know that 'bouclé' is a curly, looped yarn that when knotted gives a bobbly effect and feels textured!)
During our degree in Fashion Design with Knitwear at Central St Martins, our wise tutors always told us that, as knitters, we were 'makers' and this has always stuck with us. We absolutely love designing, crafting and creating.
We've always loved different natural scents but found we got headaches after burning artificially scented candles and didn't love the idea of inhaling paraffin/chemical fragrances. In the course of our final year we also fully realised that we had a joint passion and need for sustainability.  Bouclé was then born after we plucked up the courage to fuse all of these interests together.  But we still love knitwear too and  continue our freelance knit business which we absolutely love.
3. What are you spinning or pouring over right now?
We're currently juggling a number of different tasks (like everyone, especially in lockdown!!). We're working on a new scent for summer and have been updating our new website.
This is very boring but we're also sorting out the business structure and trying to do our best impression of being adults whilst navigating QuickBooks. We dived into Bouclé head first last year and now it's time for some admin!!
4.  After the awfulness of 2020, what's your dream for 2021?
Our aim is to set ourselves up so we're in a great place to be able to continue to be very 'hands on' with hand pouring and packaging the candles ourselves in small batches whilst also growing to reach a wider audience. We can't wait to be stocked in more shops and are so looking forward to local shops reopening when they're able to. We really hope customers will continue to support local businesses going into the future!
A huge priority is to continue to use recycled & recyclable materials in our packaging, to maintain our all natural, hand poured, sustainably sourced materials ethos & slowly 'scaling up' whilst continuing to stay small and hand crafted. 
5. Have you developed any new drinking habits over lock-down?  Any additions to your drinks cabinet or little rituals? 
Oh gosh, the cabinet is getting bigger by the second!! In the summer I love an orange gin, whilst Ben always opts for his favourite (Aperol Spritz).
At the moment we also have a couple of different whisky's for the occasional Old Fashioned, that's certainly a lock-down habit.
Being obsessed with fragrance we love experimenting with adding herbs & fruits to our gin - it genuinely helps with candle scent ideas too! Who'd have thought Rosemary in a gin could taste so amazing!
6. What bar or restaurant are you most excited to get to when lock down is lifted?
We're going to treat ourselves to dinner at Terre à Terre in Brighton – in our opinion it's the best vegetarian restaurant!! 
@boucle_co
---
← Older Post Newer Post →