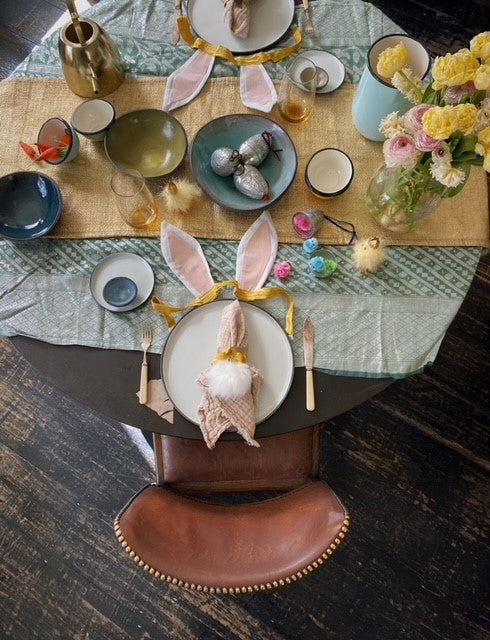 For our Easter Special 'Aperitivo Time' we're in Bath talking to the enthusiastic beings at Always Sunday Town + House, a unique venue bringing inspiration from around the world and diversity to the Bath food scene. 
Easter, the Always Sunday way
Founder, Lexi Learmond knows a thing or two about creating the right mood, showcasing an ever changing variety of creative collaborations at her studio home, The Always Sunday House, and creating unique spaces where guests can socialise, express, and feel inspired. 
Here she gives us her styling tips for creating an Easter table setting. Her guiding principle, which we love, is have some fun with it! Who doesn't want that right now? 
"I find meals are always more relaxed and conversation flows better when there is an interactive element on my table whether it's attire, jokes, crackers, or quizzes! Our meals become more memorable and lots more fun!
Easter tables are great because you can be playful and add elements of Spring to make it fresh.
I used an old sari draped across the table to give some metallic sparkle and tie in my vintage cutlery with the silver. I then layered the woven gold table runner to introduce a warm yellow in the mix because I felt it could relate to the hilarious little chicks with gold crowns.
A dash of yellow flowers in our Cheeky Bum vase adds subtle humour whilst also adding a dash of Spring.
Lastly a selection of handmade ceramics from a local artisan give the depth of rich glazed colour splash contrasted by the crisp white plates which await an Easter Feast.
Lastly... one cannot forget Easter ears and cotton tails to really put your guests in the mood!" 
Bunny Hop Cocktail 
Continuing the bunny theme, head bartender, Toby Helley, has developed a fruity and fun Easter drink using HYKE Signature Series Orange Gin and seasonal herb rosemary, which he has made into a delicious cocktail syrup. 
Toby's top tip, get ahead and prepare the syrups on Thursday evening or Friday morning and then sit back and enjoy bar-grade cocktails all weekend long without any hassle! 
Ingredients:
45ml of HYKE Signature Series Orange
15ml St Germain Elderflower cordial 
25ml Apple Juice 
25ml Grapefruit Juice 
15ml Ginger Syrup 
12.5ml Rosemary Syrup
Method: 
Pop all ingredients into a boston tin and shake well with ice. Then strain into a goblet over ice and garnish with a dehydrated orange wheel and Rosemary sprig.
For more details about Always Sunday Town + House and Always Sunday@home visit www.astownhouse.com
For vintage finds, artisanal products and home style inspiration from Lexi visit  www.alwayssunday.store 
---
← Older Post Newer Post →